Metro Teams with St. Louis Mosaic Project for Language Access Initiative
By Lindsey
Collaboration is ensuring non-English speaking transit riders receive important COVID-19 health and safety messages
A unique partnership between Metro Transit and the St. Louis Mosaic Project has helped ensure that non-English speaking riders throughout the bi-state area have access to important COVID-19 information on our system in their native language.
With an immigrant population of nearly five percent in the St. Louis region, this initiative reinforces the importance of providing lifesaving information that reaches immigrant, refugee and other at-risk residents, while moving the community toward more inclusive emergency management and strategies.
Through the Resilient Rapid Response Initiative created by Welcoming America, a non-profit, non-partisan organization that supports immigrants new to the St. Louis metropolitan area, the St. Louis Mosaic Project was awarded grant funding aimed at boosting inclusive emergency response to the COVID-19 pandemic.
We teamed up with the St. Louis Mosaic Project to create a range of multi-lingual materials for public transportation riders whose primary language is not English to help understand mask policies, fare plans, changing bus routes and more.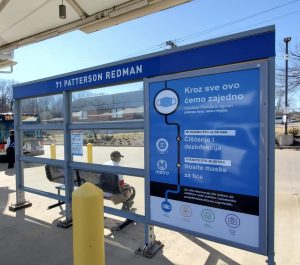 With the help of the International Institute of St. Louis, collateral materials highlighting COVID-19 protocols and health and safety procedures produced by the American Public Transportation Association (APTA) were translated into six different languages – Arabic, Bosnian, Chinese, Spanish, Swahili and Vietnamese – and verified for accuracy.
Learn more about the APTA Commitment to Health & Safety here.
More than 1,750 posters were displayed on MetroLink trains, MetroBus vehicles and at MetroBus shelters across the region. Materials were also shared via social media and directly with immigrant organizations to assist those who are starting to use transit for jobs once again. Beyond the grant that was awarded to the Mosaic Project, Metro Transit contributed additional financial support – including some of the CARES Act funding it had received to further the outreach of the project. This enabled multi-lingual print and digital ads communicating the same important messages to be published in various ethnic media outlets in the region.
"It is vital that we have effective and clear communication with all the individuals we serve, but especially during these challenging times when the messages we need to communicate help to ensure the safety and health of all our Metro Transit riders," said Taulby Roach, Bi-State Development President & CEO. "We are proud of our continuing partnership with the Mosaic Project and we welcome the opportunity to promote an inclusive environment in the bi-state area."
This is the second time Metro Transit has worked with the Mosaic Project to create opportunities to break down language barriers. In 2013, their collaboration created multi-language posters that were placed on MetroBus vehicles and MetroLink trains. The poster included the message of "Welcome" in 13 languages to help make Metro Transit riders who did not have English as their first language feel more comfortable when taking public transit. Those colorful posters are still greeting riders today on some of the transit vehicles.
Click here to read the full article on Metro St. Louis website