Webster University School of Education Receives NSA Grant for Teachers of Persian, Arabic Languages
Webster University has received its first National Security Agency (NSA) grant, through the STARTALK program. Funded by the NSA and the National Foreign Language Center (NFLC), the grant will fund a project, "STARTALK: Our Languages, Our Gateway," that will strengthen the preparation of teachers of two critical languages, Persian and Arabic, in the St. Louis area.
STARTALK seeks to achieve three goals:
increase the number of students enrolled in the study of critical languages
increase the number of highly effective critical-language teachers in the U.S.
increase the number of highly effective materials and curricula available to teachers and students of critical-need languages
During the summer of 2021, K–12 and heritage language teachers will have the opportunity to acquire the necessary knowledge to implement the Teacher Effectiveness for Language Learning (TELL) criteria statements and their relevant domains focusing on planning and learning environment in a two-week summer professional development workshop, followed by 30 hours of follow-up fall workshops and remote and/or in-class observations and coaching. Twenty teachers will have the opportunity to receive six credit hours from the Webster University School of Education upon successful completion of these workshops.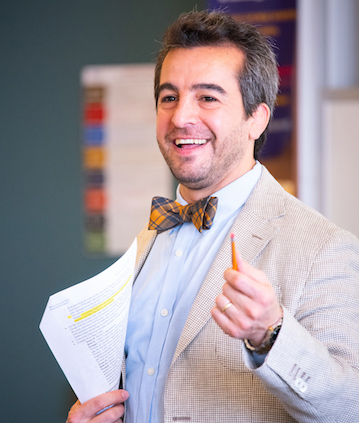 STARTALK: Our Languages, Our Gateway is a collaboration between faculty at three area universities. Soheil Mansouri (pictured), visiting assistant professor in the Graduate Department of Education at Webster University, will serve as the project's primary investigator. Mansouri is in his third year working on Webster's $2.7 million National Professional Development grant with the Teaching English as a Second Language program as a core faculty member engaged in preparing more than 100 area K–12 teachers to meet the needs of English learners in their schools and classrooms.
Mansouri will collaborate with Cindy Brantmeier from Washington University in St. Louis, who will serve as co-principal investigator, and Samaneh Jafari from Southern Illinois University-Carbondale, who will serve as the instructional lead.
"Promoting the literacy of critical languages such as Persian and Arabic in the U.S. has always been my paramount passion," said Mansouri, whose dissertation was on heritage language learning. Mansouri served in a leadership role for Florida State University's STARTALK program, "Learning to Teach Critical Languages from Best Practices," in 2015, and also served as the instructional lead for a STARTALK program in 2016. He also provided educational services as a STARTALK site visitor and consultant during the Summers of 2016 and 2017.
"We are proud to see another federal grant project funded in the School of Education with a focus on preparing teachers to meet unmet needs," said Thomas Cornell, interim dean for the Webster University School of Education. The School of Education has received two, five-year National Professional Development grants from the U.S. Department of Education and collaborated with Webster's College of Arts & Science and Walker School of Business & Technology to receive a Noyce capacity-building grant from the National Science Foundation. The new STARTALK grant marks Webster University's first project funded by the National Security Agency.
"This STARTALK grant demonstrates Webster University's on-going capacity to obtain external funding to support projects that meet our university's mission and provide high-quality learning experiences that benefit the community," Webster University President Julian Schuster. "Grants like this one can have an immediate impact on the K-12 schools and communities in our region."
Recent efforts to build Webster's external funding are led by a community of inspired faculty with the support of Webster's Office of Research and Sponsored Programs (ORSP). The ORSP was established in 2016 through Webster's first-ever grant from the National Institutes of Health (NIH), which provided $449,000 over five years. The NIH's BRAD program (Biomedical/Biobehavioral Research Administration Development) has expanded the university's capacity to seek research funding through faculty professional development and strengthened infrastructure. ORSP provided support in the development and submission of this STARTALK grant application.
STARTALK is a project funded by the National Security Agency and administered by the National Foreign Language Center at the University of Maryland. STARTALK's mission is to increase the number of U.S. citizens learning, speaking, and teaching critical-need foreign languages, with programs for students (K-16) and teachers. STARTALK was launched as a new component in the programs of the National Security Language Initiative (NSLI) announced by former President Bush in January of 2006. Other programs under the NSLI umbrella include Title VI/Fulbright Hays programs of the US Department of Education, The National Security Education program of the National Defense University, and study abroad and exchange programs of the U.S. Department of State
Click here to read the article on Webster University's website